You now have a choice of purchasing one of our server/computer based database systems outright with a once off payment and install it at their offices or you can purchase the system and we can host it for you on our Cloud Server for a monthly fee.
So what are the advantages of a Cloud Based LMS?
Disaster Recovery: For any business, the loss of data can be catastrophic, with hosting your LMS on our Cloud server your data will automatically backed up twice day.
Software Updates Automatically Done for You: As the Cloud server is "Offsite" you don't have to worry about the time or personnel to ensure your LMS software is updated regularly, including security, this is done for you by your service provider.
Work from Anywhere: With the Cloud, you can work from anywhere you have an internet connection and in most instances, you can connect using laptops, tablet, and even mobile phones. Meaning that you can work anytime you wish from any location.
Scalability: One of the primary benefits of Cloud based Products is being able to increase and decrease server capabilities and network capacity on an as-needed basis.
Easy to Use: Virtual-IT databases have been supporting Southern African Industry for over 19 years, so our products are tried and tested, we are now offering our easy to use databases via the cloud. Users can login from anywhere in the world using their laptops, tablets or even mobile phones.
Green: Our databases have been "Green" for a number of years; by installing, supporting and training via the internet we have cut our carbon footprint down considerably and with these new Cloud based systems we will continue along that path.
INTRODUCING THE VIRTUAL-IT CORE DASHBOARD
How do you get you Excel Exports from Looking like this.....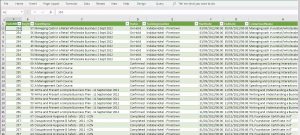 To This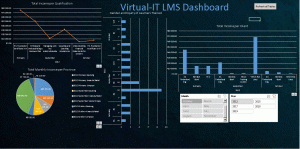 It's Easy with a Virtual-IT Core Dashboard.
WHAT IS A DASHBOARD?
A dashboard gives management a quick, visual report of Key Data relative to your business.
Designed to give you quick data feedback. Indicating areas that you may need to watch and allowing you to "drill down" for problem solving.
So, what are the benefits of Virtual-IT Core dashboard.
Virtual-IT Dashboard Video link
They link straight from you LMS making the analysis of data easy and clear
They do away with having to download data, manipulate it and then stressing on how to present it
Filters help you step between annual figures, regional input, course contribution and other stats.
They make it easier to share only the core information that's important to you.
And the Good News for Virtual-IT LMS Platinum Plus Cloud hosted clients is the dashboard shown above is absolutely free, just drop us an email and we will load it onto your Server.
If you are a current Virtual-IT Platinum owner or are looking to purchase one and want to convert to our Cloud Hosting, we will upgrade you the Plus version and the dashboard demonstrated forms part of the package.
We can also quote should you want to have your own Bespoke dashboards built.